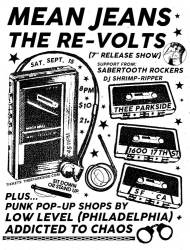 Mean Jeans, The Re-Volts (7" Release Show!), Sabertooth Rockers
Low Level, Addicted to Chaos art show out on the patio!
DJ Shrimp Ripper
Time: 8:00pm Day: Saturday Ages: 21+ Ages Price: $10
This Event Has Ended
Mean Jeans
Since forming in 2006, MEAN JEANS have become one of the better-known bands of the Pacific Northwest punk scene for their chaotic but relentless attack, raucous live shows, and fierce commitment to the art of partying. Fat Wreck finally got their paws on the threesome in 2016 for their much anticipated third album Tight New Dimension. As those familiar with the band know, these guys' hands refuse to stay idle. Following the release of their latest album, Mean Jeans went right back to work, but on something a little different this time around... Jingles Collection is a collection of, well, Jingles! The band tackle everything from "Mountain Dew," to "Coors Light," "Dunkaroos, ""Pop Rocks;" and even give "180069SHRED" some love. These 23 tracks (most of which clocking in at under a minute) give fans of the band everything they've come to expect from these guys: Garage style rock n' roll, with all the hooks, energy, and humor you can handle.
The Re-Volts (record release show!) 
Get into the night with the Re-Volts, an original, punk boogie band from San Francisco, consisting of Spike Slawson (Me First and the Gimme Gimmes, Uke-Hunt) on vocals, He Who Cannot be Named (the Dwarves) on farfisa, Paul Oxborrow (the Primitive Hearts, So What, Genuine Parts) on bass, Colin Delaney (the Hooks) on drums, Bone Cootes on the guitar, and Rob Goodson (Sob Stories, Cocktails) also on guitar!
SF's premier outsider rock outfit is primed and ready to fulfill and exceed all of your live entertainment expectations with a high-intensity musical set of inflammable, original material and select covers.
Hidden away in poorly-lit, bug-infested enclosures on the seedier sides of town, the eccentric outliers that make up this group endeavored to put their re-volting, dystopian worldview to a steady rock and roll beat, and are now itching to unburden themselves publicly. 
Having just released their new 7" with two brand new original songs on Pirates Press Records (more in store), there is no better time to see the Re-Volts than right now!
Sabertooth Rockers 
New Bay Are Punk Band featuring members of Isaac Rother & The Phantoms! 
sabertoothrockers.bandcamp.com/releases