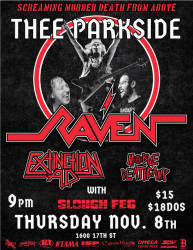 Raven, Slough Feg, Extinction A.D., Mobile Deathcamp
Time: 9:00pm Day: Thursday Ages: 21+ Ages Price: $15
This Event Has Ended
Raven are that rare thing in music,  true originals – cut these guys with a razor and they will BLEED true heavy metal - a more intense live band does not exist on this planet!
Hailing from Newcastle Upon Tyne in North East England back in 1974 (yes – 44 YEARS ago!!!) the brothers Gallagher cut their teeth playing the pubs & clubs until solidifying their line up in 1980 with drummer Rob Hunter.  The trio went on to release three of the most influential metal albums of the NWOBHM (New Wave Of British Heavy Metal) on the Neat records label which in turn inspired every band of that era and beyond.  Basically,  without Raven you just would not have thrash/speed metal…. after all, the band did give Metallica & Anthrax their first tours!
Following a tumultous move to the USA, deals with Atlantic Records, indentured servitude and commercialism,  Rob left the band in 1987 to be replaced by drummer extraordinaire Joe Hasselvander, who had made his name in cult doom band Pentagram, Savoy Brown and his own solo projects, adding a new dimension to the band.
Rebuilding from the Atlantic experiences,  the band capitalized on their fierce live performances steadily releasing albums and touring the world.  In 2001,  guitarist Mark Gallagher was involved in a near fatal accident - but fought his way back from the brink and the band proved they were stronger than ever!  This renewed spirit and attitude was reflected in the title of their 2010 album "WALK THROUGH FIRE" and in the career overview DVD "ROCK UNTIL YOU DROP".
2014 found the band opening for Metallica (the band Raven took on their first tour back in 1983) in Sao Paulo in front of 70,000 fans, and completeing a 43 date headlining USA tour – not to mention completing their finest album to date – ExtermiNation" which was released to universal acclaim from fans & critics alike in 2015!
2015 & 2016 had the band on tour..playing the USA, a 43 date Euro tour, festivals and    territories such as South Korea & eastern Europe for the first time as well as a triumphant return to Japan.
Following a serious heart attack in May 2017 Joe Hasselvander has had to unfortunatly relinquish the drum stool….taking over drum duties is the phenomenal  Mike Heller (Fear Factory, Malignancy) who has immediately injected high energy into the band!
The guys are already working on recording material for the next RAVEN opus, taking their game to the next level…slated for a  late 2018 release
In a cynical musical landscape these days, where bands are not "gangs" but corporations...where albums and live shows are click tracked & pro-tooled to death…   RAVEN are a band that are REAL not FAKE – and proud of it!
Slough Feg 
Extinction A.D. comprised of front-man Rick Jimenez and ex-This Is Hell bandmates Pieter van den Berg and Mike Sciulara, as well as Long Island native, Ian Cimaglia, deliver a fresh, energetic thrash attack, showing true love for early greats; old Testament, Slayer and Metallica, while dazzling with 2016 power and precision.
The band formed in 2013 and has been releasing music and touring steadily since, as seen with Unearth, Municipal Waste, Havok, Testament, Exodus, Shadows Fall, From Autumn To Ashes, Toxic Holocaust, Kvelertak, Nuclear Assault, Venom, D.R.I., The Red Chord, Bane, Act Of Defiance, Cro-Mags, Voivod, Vision of Disorder and many more.

Their full length debut Faithkiller was recorded and mixed by Brett Romnes (I Am the Avalanche, Anthony Raneri), and mastered by Brad Boatright (Nails, Noisem).

Mobile Deathcamp
Based out of Toledo, Ohio, MOBILE DEATHCAMP has been sawing clubs in half, and leaving crowds with their collective jaws on the floor since the band's inception in 2008. Formed by Todd Evans at the end of his 6 year stint as Beefcake The Mighty with the legendary shock rockers, GWAR, and joined in battle by Chad Smith and JC, this musical terror pocket has been consistently leveling venues across North America.