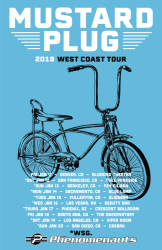 Mustard Plug, The Phenomenauts, Aloha Screwdriver, Dan P. (of Dan P. and The Bricks)
Time: 8:00pm Day: Saturday Ages: 21+ Ages Price: $15
This Event Has Ended
Mustard Plug started out in the punk clubs, basements and dive bars of the Midwest, playing punk-influenced ska music before most people in the U.S. had ever heard of ska. They clung to a DIY work ethic that had been ingrained in them growing up in the 1980′s hardcore punk scene and applied it to everything they would ever do together as a band. Mustard Plug released their first cassette tape themselves (1992′s Skapocalypse Now!), and played constantly to earn enough money to record their first album – 1994′s Big Daddy Mulititude. Their debut full length was released on legendary NYC label Moon Records (home of Toasters, Hepcat, Dance Hall Crashers, and pretty much every other 90′s ska band of note). With their new found national distribution and exposure, the band climbed into their van and performed their music to new fans across North America. Twenty-one years, 1500 shows and 200,000 album sales later, it cannot be denied that the band has surpassed all expectations and permanently staked their claim in contemporary music.
For their new album, "Can't Contain It", Mustard Plug have returned to the DIY blueprint that the band was built upon, while at the same time embracing all the school of hard knocks craftsmanship and wisdom that the band has earned along the way. The band spent the last several years writing new material that was informed by 22 years of songwriting experience while retaining the youthful energy that has endeared them to their fans. They tracked the record at bassist Rick Johnson's Cold War Studios, giving them the flexibility to experiment and add new layers and dimensions that were not possible given the time constraints on their previous recordings. Many of their musician friends(Dan Potthast, Sean Bonnett, Mark Petz, Corey Ruffin) were tapped to contribute, creating a denser, more intricate sound.
Once the recording process for Can't Contain It was complete, the band turned to their fans to help finance the mixing and production of their record. Their Kickstarter campaign surpassed all their expectations, doubling their initial goal and re-confirming the support and love of their audience. The tracks were then sent to be mixed at Bill Stevenson's Blasting Room Studios where Mustard Plug had recorded 3 of their previous albums (including 1997's breakthrough "Evildoers Beware" and 2007's "In Black and White"). The result is possibly their most diverse and best record to date.
After tapping their friends and fans to help out with the recording, the band turned to more of their posse to collaborate on the artwork. Underground icon Jeff Rosenstock designed the album packaging, while noted artists Craig Horkey and Larry Kole created alternative limited edition album covers and posters. The final piece came together when at the last minute, No Idea record founder, Var Thelin heard the record and offered to partner with the band on its release. Mustard Plug is excited to be given the opportunity to collaborate with a label known for its' strong punk rock ethics and underground credibility.
Ultimately, this release is about the community Mustard Plug has built during its' 22 year existence. Coming full circle back to the DIY scene and the community that the were born out of has helped them to put out their best record to date.
The Phenomenauts have arrived to challenge the power of gravity: the mysterious, but not unknowable force that keeps the planets in their orbits, the galaxy spinning slowly through space and starry eyed dancers whirling around the floor with their brains bursting with notions of science and honor. On Escape Velocity, the band's latest opus, they break the chains that keep bodies and imaginations earthbound and take off on a boundless journey fueled by their unstoppable rhythms, inventive melodies and nimble lyrics. "Escape velocity" is the speed needed to break free from the gravitational attraction of a massive body, such as the Earth. The band felt it was a fitting title for an album that encourages people to break free of their own limitations.
After a year and a half of exploring the frontiers where the music of the past, present and future merge, The Phenomenauts returned to their headquarters in Oakland CA with 12 new transmissions, songs guaranteed to get everything moving in all directions at the same time. The band worked closely with engineer/producer Denny Muller at The Static Room to make the album. "We had no time limit," says co-producer Lt. AR7, one of the band's guitarists and vocalists. "We slowly and carefully recorded each song to make an album that's finely focused and musically and lyrically adventurous. In the process, The band jettisoned the stand-up bass in favor of the Stand-down™, a Phenomenaut designed, highly stylized electric sci-fi bass that adds its interplanetary textures to the new songs."
The Phenomenauts are a working democracy. All songs were communally written and arranged. As they evolved, elements were added or stripped away until each song took on a vibrant life of its own, inspired by the arcane rhythms of intergalactic space, and a wide variety of Earth music. "Theme For Oakland" is an anthem in honor of Earth's Capital, Oakland, California. It's driven by a big, glittering British backbeat and a simple exuberant chorus of "Hey Hey Heys," delivered by the massed voices of The Bay Area Cadet Chorus. There's a taste of do-wop in "1 in 7 Billion Girl." Clashing acoustic and electric guitars, growling Stand-down™, and the funky, skewed rhythms of Major Jimmy Boom's drums will make your hips shake and your head talk. Angel Nova and special guest, Kepi Ghoulie, trade vocals on "When Greed Nearly Destroyed The World." It's a short sci-fi narrative that presents a vision of utopia, and what it cost to get there, in little more than three minutes. Chugging guitars, staccato power chords, electronic drum flourishes, new wavey synthesizers and a soaring chorus present a hopeful scenario that looks compassionately back on our tortured past.
String metal band Judgement Day, featuring Anton Patzner's violin and the sonorous tones of Lewis Patzner's cello, adds a classic flourish to "Just One Earth." AR7 plays a stately R&B piano as the song builds to a glamorous prog-rock climax, full of soaring sustained notes delivered by Angel Nova's guitar. It's a love song to the Earth that invites us to look out and marvel at the universe surrounding us: "Four billion years old as measured from / Uranium 238 gamma radiation / Evolving from cells / and divergent mutation / To intelligent life / Who dreams of the stars / Finding a tear in space / A wormhole in the dark / A chance to explore / What lies beyond our sight."
The album's other ballad, "It's Only Chemical," sounds like progressive British do-wop being played on a transistor radio from the 60s. Chiming guitars, synthesizer triplets and processed background vocals support the soulful crooning of Nova and AR7, as they dispel the myths of romance and heartache with the lowdown truth – all those tortured feelings are only chemical reactions.
The Phenomenauts also introduce a new dance craze, the "Broken Robot Jerk."
It encourages you to flail around like a malfunctioning robot. Surf, punk, metallic shredding guitar, dark Halloween keyboards, cinematic space music and more collide on one of the album's most ingenious tracks. Join in and sing along: "It don't take lots of talent and it don't take lots of work / The moves of James Brown meets the speech of Captain Kirk / Everybody's broken / Do the Broken Robot Jerk."
With Escape Velocity ready for release, The Phenomenauts are one step closer to world domination. The songs happily demolish the notions of space/time that keep us stuck in our geo-centric human rut and encourage us to face the future with our eyes on the stars, our hands on our hearts and our souls glowing with the unstoppable drive of universal rhythm.
Other recent missions have included making "I'm With Neil," a video/song honoring their favorite scientist, Neil deGrasse Tyson. Tyson wrote about it several times on Facebook and Twitter, which gave The Phenomenauts a new level of respect and helped them develop an expanding international fan base. They'll be releasing an official 7" re-recording of the song and are in the process of making videos for all the songs on Escape Velocity. The first will be "Broken Robot Jerk." Then they'll set off on a tour of Europe and the US in support of the record.
Shortly after landing on the planet Earth, the galaxy roving Phenomenauts became famous for commando performances on the streets. They'd show up with a battery pack outside of a venue, punch out a few blistering tunes for the people in line and split before security showed up to drive them off. In 2002 they crashed the backstage barriers of Van's Warped Tour to "steal" some stage time. They were officially invited to join Van's in 2003, impressing fans with their energetic live show, a production that original robotic guitarist JoeBot 1.0's Theramatic Helmerator, a wireless Theremin head set that created Sci-Fi sounds reminiscent of old Star Trek episodes and the Streamerator, manned by Professor Greg Arius, a device that blasts rolls of toilet paper out into the crowd.
They've made five official albums – Rockets and Robots (2001,) the Pre-Entry EP (2004,) Re-Entry (2004,) which featured a video for the song "Mission" that got half a million hits and counting, For All Mankind (2008) and the Electric Sheep EP – and tour relentlessly in their Phenoma-vechicles, ships crammed with remote controls, stereo components, the motherboards of defunct computers and other high and low tech gear.
In 2008, they were given a VIP tour of NASA's Lyndon B. Johnson Space Center in Houston, which included meetings with astronauts, scientists and hands-on experience with space station parts and training facilities. "We visited the old Mission Control, and were laughing about the old technology they had: tubes, rotary dials, etc.," Nova says. "When we noticed tourists watching us from the other side of the glass, we realized that we were privileged to be in a place where so much amazing progress was made. It was humbling. We also got to meet [Congresswoman] Gabby Giffords and her husband, astronaut Mark Kelly, which was an honor."
In 2008, their song "Infinite Frontier" was played aboard the International Space Station during the STS-124 mission to rendezvous with the space shuttle Discovery. It was the first punk song ever to be broadcast from space. "It was awesome," Professor Arius says, "but we feel bad for the astronauts who got woken up by it. It's not really a gentle good morning song."
Aloha Screwdriver delivers a high-octane mix of surf and twang. The Alameda, CA-based instrumental group formed in 2009 by three friends (possibly from another dimension) who have been playing music together since they were 15 years old.
In 2011, Aloha Screwdriver released their first CD, titled No Way Out. Recored to tape entirely on vintage gear, the 8-song EP has a uniquely saturated, old school sound that sonically sits right alongside '60s recordings of Dick Dale, but calls itself out with its punk-tempo pacing and rock-inspired drumming.
Dan P. (of Dan P. & The Bricks) is a solo/singer/songwriter who has released several solo records independently, as well as having releases on Asian Man Records, and Pentimento Music. He has toured the world over and also plays in MU330, The Bricks, and The Stitch Up.