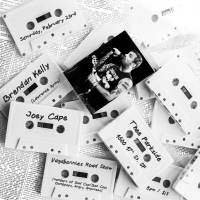 Brendan Kelly (The Lawrence Arms), Joey Cape, Vagabonnies Road Show
Time: 8:00pm Day: Saturday Ages: 21+ Ages Price: $15
This Event Has Ended
Brendan Kelly (The Lawrence Arms) 
Brendan Kelly has been voted "Best Twitter" by Chicago Reader, was a TV Host, is the guy behind Nihilist Arby's, sings in The Lawrence Arms, works at The Onion, makes weird art… the list goes on.  Now after a couple years crafting deviant songs he has something new for his cult to consume: a 10-song album called Keep Walkin' Pal.  He releases his "solo" material under the name Brendan Kelly and the Wandering Birds, but this is not some emo boy with a guitar or another "punk goes acoustic" outing, this is an artist collective like Wu-Tang Clan or Crass.  It involves musicians, visual artists, studio nerds, and even a college film professor.  We're not sure how to describe this wild record (Space Rock?  Chiptune?), but we know it's a likable mix and a real departure from what you're used to hearing from Brendan and this scene.
brendankellyandthewanderingbirds.bandcamp.com
Joey Cape
Long-time singer-songwriter Joey Cape has drawn inspiration from the candle lit emotion of Kill Rock Stars era Elliott Smith and an upbringing steeped in acoustic acts such as Simon & Garfunkel and Cat Stevens; Cape's acoustic efforts stand up on their own and finally introduce him as a promising addition to the pantheon of great American singer-songwriters.
Bad Cop / Bad Cop: (Stacey Dee and Jennie)
Beebs and 

her

 Money Maker 
Jen Carlson (Formerly of Bad Cop/ Bad Cop & Angry Amputees)