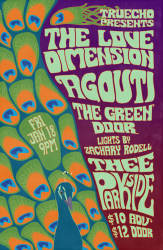 TruEcho Presents:
The Love Dimension, Agouti, The Green Door
Lights by Zachary Rodell
Time: 9:00pm Day: Friday Ages: 21+ Ages Price: $10
This Event Has Ended
TruEcho Presents: 
The Love Dimension 
San Francisco musical collective The Love Dimension steeped itself in the music of the psychedelic era of the '60s then infused it with the sound of '90s grunge and other more contemporary influences to create "mind-expanding music" for the 21st century. Resonating with the consciousness expanding goals of the '60s psychedelic movement, The Love Dimension "creates sonic architecture for the benefit of all sentient beings across the multi-verse." A musical vision that reflects the personal journey of band founder Jimmy L. Dias who was on the path to becoming a shamanic healer when his own experiences of healing called him back to music. In 2008, while continuing his training as a healer, Jimmy set out to find the right players for The Love Dimension. 

In January 2009, Jimmy played a solo acoustic show as The Love Dimension at a dive bar in San Francisco. Local club gigs followed with a rotating line-up supporting Jimmy (guitar/vocals), Celeste Obomsawin (vocals/percussion/flute) and Raphael Wayman Davis (bass). During its first two years, the band recorded its first album, In Between Lives (2011) and several EPs and singles. Then tragedy struck with the untimely death of bass player Raphael. The next few years saw several different band lineups and the release of several recordings including albums Forget the Remember (2012) and Create and Consume (2014).

The Love Dimension's core lineup is Jimmy L. Dias (vocals/guitar), Celeste Obomsawin (vocals/percussion/flute), Amy Jane Cronkleton (vocals), Robinson Kuntz (drums), Michael Summers (bass) and Devin Farney (keyboards/vocals). The band has featured many other talented musicians such as Jacob Landry (guitar), Jeremy Walker (guitar), Joe Miller (drums), Kevin Grapski (bass), Ryan Erickson (bass/vocals), Eric Amerman (guitar/keys/drums), Ryan Scott Long (drums), Sonny Pearce (drums), Tommy Anderson (bass), Kyle DeMartini (guitar), and Sean Carney (guitar) just to name a few.

Playing bigger shows at better venues, making festival appearances (including Desert Stars, Whole Earth, Haight Ashbury Street Fair, Gathering of the Tribes), getting radio play, and the release in 2016 of the EP, Freakquency Space Mind Continuum, The Love Dimension is poised to make a move.

The Love Dimension plays in multiple configurations—from solo acoustic sets to 11-piece expanded lineups—depending on the needs of the venue and the occasion. Whatever the configuration, The Love Dimension will deliver a performance that will elevate the spirit and move the soul.
Agouti is a psychedelic rock band that surfaced from songwriter and producer Carmen Caruso after a trip to Costa Rica's cloud forests. Escaping from chronic fatigue and dysfunctional routine, she ruminated on what to do next. Caruso realized many of her musical facets - early experiences in choir, infatuation with 60s and 70s rock, forays into building new instruments, and making experimental music - all oscillated around psychedelic rock.
When Caruso returned home to San Francisco, she started down a path to produce her own brand of psychedelic music. She created a recording studio in her basement, gutting the entire room and rebuilding it into a soundproof space. She fixed up a 70s bass amp, a 4-track reel-to-reel, and a vintage mixer. Finally, she began writing a new set of songs. It was during this incubation period that she found kindred spirits David Rabkin, Dakota Salazar, and Leanne Kelly. These three helped flesh out Agouti's sound as Caruso set to work recording their first two singles. The end results, "Summertime" and "Chameleon", have been featured in The Bay Bridged, Deli Magazine, and included in KQED's Mixtape of up-and-coming psychedelic bands.
soundcloud.com/agoutiband/summertime
The Green Door 
Blending raw, rhythmic desert sounds with driving 60s acid rock, The Green Door beckons the listener into a landscape evocative of the wild, uncompromising West themes of the 1960s with a mind-bending, psychedelic twist. Formed in San Francisco in 2008, the band is comprised of Mike Carnahan on lead vocals and guitar, Reese Abell on bass, guitarist Evan Wardell, and drummer Vanessa Wolter, as well as Devin Triplett on keys. The Green Door's atmospheric strumming juxtaposed with formidable signature riffs that coast atop pounding, driving beats send the listener's mind spinning off to the badlands beyond the border of sonic civilization. 
The result is a melodic reckoning force of American myth and counter culture ideology. Deriving their name from a Bob Dylan comment in the 1967 documentary "Don't Look Back", the concept of a green door stands as an image of mystery enclosing the individual's perception of the outside world. The Green Door takes reference from throw-back genres and low-fi records as well as American western iconography and legends, but looks forward in its artistic song writing approach, as is evident on their first full-length album titled The Green Door released in 2011. In this way their music has an avant-garde aesthetic, yet still feels familiar.  The Green Door released their second album 'Wolf In The Fold' on December 15th, 2017.
Lights by Zachary Rodell