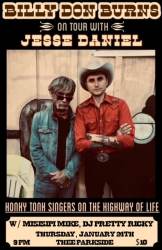 Billy Don Burns, Jesse Daniel, Misisipi Mike
DJ Pretty Ricky
Time: 9:00pm Day: Thursday Doors: 9:00pm Ages: 21+ Ages Price: $10
This Event Has Ended
Billy Don Burns
To those country fans that know the name, it looms large.
But the truth of the matter is, not many know the name. They know the names of Merle Haggard and Johnny Paycheck—two men who Billy Don Burns has produced albums for. They know Willie Nelson and Johnny Cash—two acquaintances of Burns who on separate occasions, wrote touching letters for him. They recognize the name Hank Cochran, who Burns once owned a publishing company with for many years. And the list of the friends and associates and important accomplishments of Billy Don Burns from over the years continues on from there, and includes a veritable who's who of American country music throughout the 70's and 80's.
"Billy Don Burns is a true Country Music Warrior. He wears his battle scars with honor, depicting the stories of his life in his songs with brutal and beautiful honesty. He's respected far and wide for his long career in songwriting and performing, and he's still out there. He's lived it and breathed it through lifetimes of country music passion and pain. Carrying the guitar like a sword on his back, he battles for the Poet. He battles for the Artist. He battles for the souls who defy modern convention. And every time he strikes a chord in some smoke-filled Honkey Tonk, he wins. Billy Don Burns started out in this business working with legends, and somewhere along the way he became one himself." -Outlaw Magazine
Jesse Daniel 
Jesse Daniel grew up in the small mountain town of Ben Lomond, CA. Hard times hit and his parents split up, resulting in heavy, ongoing turmoil. Daniel and his brother would help their mother scavenge metal at the local landfill, which she would weld and sell at the flea market, to put food on the table. The winters were long and cold in the converted barn the family called home, making the summer season a respite to look forward to. "I learned at an early age what it meant to work hard, and to endure." Said the singer of his youth.
  His father, a talented musician and songwriter, instilled the importance of music in Daniel from an early age. He began pouring himself into music as a form of refuge, finding just that in the realm of punk rock. "I felt like there was a group of people who understood what I carried around on my shoulders… and they were just as pissed as I was." A gifted drummer, Daniel played in numerous punk bands. This introduced him to life as a traveling musician as well as steadily increasing his drug and alcohol consumption. The singer dropped out of high school, to play music and work a series of menial jobs. "I was so lost…" he said nostalgically, "I became a garbage can. Any drug I could get, I'd take, until I found heroin. After that it was a wrap, that's all I wanted to do." Music quickly took the back burner. "I started getting arrested and missing shows, to the point where I sold my drums just not to get sick. I traded everything for nothing." The next several years would be a series of stints in rehab, jail and homelessness.
"Some people call me crazy, some people call me stoned, others say I'm strung-out destined just to be alone"
  The lyrics of "Soft Spot (For The Hard Stuff)", off of his self-titled release, ring true. Not knowing how to live without the very thing that was killing him, the singer made his way back to a Lower Ocean Street motel, and walked by a thrift store window with a stacked TV display. He saw a group of older homeless men watching a Rock & Roll band play on the public access television station through the glass. "They're pretty good!" one man said. Looking closer Jesse realized man playing on that TV screen was his father. Returning to the motel room with the other junkies he noticed the TV set was blaring in the background.  An infomercial came on about a classic country CD collection, and Buck Owens played "Act Naturally". "I was mesmerized…" as Daniel put it, "Nobody else was interested, but it shined this little bit of light into my dark world. I held on to that." Some years later, while in a rehabilitation facility in Oakland, California, he heard someone playing a Hank Williams tune in the other room. "I had just enough in me to sit in a chair and listen to this guy I didn't know play." Daniel said. "I told him I wanted to play like him and he said, 'Why don't you?'" It was time to make a change. This was the final event of many that planted the seed in the singer's brain, and he began to write songs out of sheer necessity. Daniel reflects on bleak feelings of melancholy hopefulness from this time in "Looks Like Rain",
"Time goes on like always, one more time a sad song just like all the rest, I cant rewrite the history books, but I'll damn sure do my best."
  It had taken years of being lost to realize what he was meant to do all along. After getting back on his feet, the singer bought a Fender guitar at a pawnshop for $50 and began writing songs. He assembled a band and began playing bars and clubs, quickly gaining notoriety for his energetic music and rowdy showmanship. "One of the biggest rewards so far has been the opportunity to make new friends and share the stage with other musicians I admire." Said the singer in reference to playing with heroes of his such as, Wayne "The Train" Hancock, Phil & Dave Alvin, Junior Brown and more. Jesse takes inspiration regarding his musical work ethic from the late Buck Owens,"The harder I work, the luckier I get."
 With the blood, sweat and tears of past and present, Daniel cut and co-produced his debut self-titled album, playing many of the instruments himself, including all drums, percussion and guitar. The record holds true to Daniel's character, taking you for a ride through the singer's life, gritty realism and tongue-in-cheek anecdotes. The album is set to release May of 2018, and he and his band will be touring extensively to support it. "To me this album embodies my journey. I'm grateful to be here, and I'm trulyproud of this record. If my story can help anyone going through a struggle of their own, I've done my job and paid it forward. Now the real work starts."
Misisipi Mike 
Local legend Misisipi Mike has been voted Best Singer Songwriter (Best of the Bay 2011 and 2012), San Francisco Bay Guardian