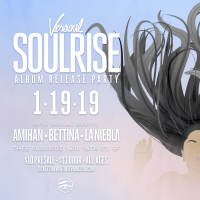 Versoul (FKA Babii Cris), Amihan, Bettina, La Niebla
"Soulrise" Album Release Party
Time: 9:00pm Day: Saturday Ages: All Ages / Bar with ID Price: $10
This Event Has Ended
Versoul (FKA Babii Cris) is an Alternative Hip-Hop Artist, Producer and Sound Engineer born in San Francisco and raised through out the Bay Area, who has been in love with Music and Hip-Hop since she was a little girl. Influenced by Alicia Keys, Eminem, Aaliyah and Bone Thugs N Harmony, Versoul uses music as her own form self-expression and self-discovery that helps her cope through struggles and battle oppression while learning how to love herself. Proudly mixed with the roots of Japanese, Hawaiian, Filipino, Salvadorian and Italian descent, Versoul dedicates her musical intention to inspire other mixed youth all around the world to continue pushing forward through life, struggles fight oppression, with self-love, resilience, and humility in order to break all boundaries, destroy stereotypes and eliminate double standards brought on by society and mainstream media. 
Through her music, Versoul continues to discover her self worth each day and challenges to look through multi-perspectives to create strength and harmony through music between all living beings. She currently has a debut album titled SOULRISE sponsored, recorded and engineered by Womens Audio Mission, getting ready to be released on December 31st, 2018 co-produced by Kyoshy the Kid.
Amihan was born & raised in the city & reps the Excelsior. She is a second generation pinay, a poet, a musician & a student. She is currently a 3rd year Gender/Womens Studies & Anthropology double major at UC Davis & is about to start working with Sacramento Area Youth Speaks (SAYS) as a poet mentor educator.
Amihan creates her music to raise awareness of the struggles and experiences of the working class immigrant community that raised her.
Bettina
Bettina Therese Francisco aka "T" is a 1st generation Filipina immigrant from the Bay Area. She grew up in South Side San Jose where she was first exposed to hip-hop culture in her neighborhood. Growing up around the culture allowed her to find a deep appreciation for hip-hop music. She first started rapping in cyphers for fun with her friends back in high school, and then ended up writing her own spoken words and raps that expressed her own story and feelings. From there, she fell in love with hip-hop music and rapping because of its ability to deal and heal from everything that was going on in her life. She now uses her rhymes as a means of self-expression, self-love, healing, and love for others. She is currently in the works of creating a project that is composed of love letters to herself and her ancestors.
La Niebla (the fog in Spanish) is a Filipina Cubana musician born and raised in the Bay Area, California. She has been studying classical piano for over 16 years, and over the past five years she has found herself performing Latin jazz, hip-hop, reggaeton, and R&B with various groups in the Bay Area. She has gone solo and started incorporating these many genres to create her unique sound in relation to her multicultural background. After finishing her first album with Las Dueñas in May of this year, La Niebla will release her own album within this coming year that tells her story of being of a diverse background in an ever changing environment. Her lyricism is relatable and authentic to being a young woman of color with a raw and genuine honesty. The many sounds of La Niebla are drawn from her reality of being exposed to different cultural settings with influences that come from all across the world to around the corner of the city.