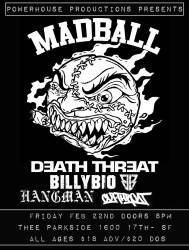 Powerhouse Productions Presents:
Madball, Death Threat, Billy Bio, Hangman, Cutthroat
Time: 8:00pm Day: Friday Ages: All Ages / Bar with ID Price: $18
This Event Has Ended
Powerhouse Productions Presents:
Madball
Ask any two people to describe what Hardcore is all about, especially in 2014, and the volume of responses will blow your head clear off of your shoulders. Neither Ian MacKaye; nor Mike Muir, nor any member of the Bad Brains would even want to try to explain it. This scene of ours is misunderstood to the nth degree, and all too often, the wrong party is left trying to school the uninitiated as to its characteristics. Attempting to put New York Hardcore into its proper context may be even tougher. Regardless, most will agree that the NYHC sound - the one most often associated with its scene - begins with Agnostic Front, and if you don't already know the kinship between Madball and AF, you should probably do the knowledge.
Death Threat
Billy Bio
Hangman
Cutthroat