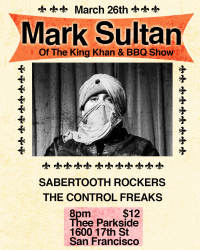 Mark Sultan (The King Khan & BBQ Show), Sabertooth Rockers, The Control Freaks
Time: 8:00pm Day: Tuesday Ages: 21+ Ages Price: $12
This Event Has Ended
Mark Sultan (The King Khan & BBQ Show) 
A cult figure, underrated gem and sorcerer, Mark Sultan continues to hammer out releases while touring incessantly, showing no desire to quit.
"It's weird… Rock'n'Roll started out as my religion, but has turned into a personal responsibility, to do my part in keeping it all alive."
After a legacy of albums and 45s on some of the most respected labels out there (In The Red, Goner, Crypt, Wick/Daptone, Sub Pop, Fat Possum, Bomp!, Norton, etc…), and an impressive list of projects (The King Khan & BBQ Show, Ding-Dongs, Almighty Defenders, Les Sexareenos, Spaceshits, etc…), his latest album, 'Let Me Out' (Dec 2018, Modern Sky/Dirty Water/Burger) is something else. He had to learn a few instruments, and brush up on his production skills, as he painstakingly played and recorded the whole thing at his Sound Imperfection studio, in Berlin.
"Mark Sultan breathes fire into genres that, in most hands, only gather dust" -Dusted Magazine
His unmistakeable vocals, instantly transportative melodies and ideas, use time as a tapestry, mood as color. Bound to be overlooked by the population at large, it somehow seems that's the way Sultan likes it.
"Listening to this album is like that first time you heard a volume of Pebbles. A masterpiece of the genre. Pure Magic!" -4th Bardo 
"(Sultan) doesn't simply revive old sounds and old excitements, he ingests them and digests them, and regurgitates them as something new and personal." -Pitchfork
Sabertooth Rockers
In a world... (Read out loud in movie trailer voice) where guitars have been traded in for laptops and drum sticks have been replaced by digital samples, rockers are nearly extinct. Dive bars are rapidly being turned into luxury condos and tech bros are running mild in the streets. But now, resurrected from pre-historic times, Sabertooth Rockers are here to play party punk for the people. So come all ye pinheads, flunky junkies, riff raffers, street walkers and sketchballs. Feel the bite of Sabertooth Rockers
sabertoothrockers.bandcamp.com
The Control Freaks
We are, we are, we are, The Control Freaks! Their anthemesque opening number lets you know who they are immediately, THE CONTROL FREAKS. The Control Freaks are band from San Francisco, and are trying to put the P. and the U. back into Punk Rock. I know what the hell does that mean? It means this band wants to put the swagger and fun back into music, which seems to be lacking today.  So is it catchy? You definitely will catch something listening to this. Is it raw? Like eating fresh roadkill Does it move you like a 7.0 shaker? Check, and mate…So who the hell are the Control Freaks? 
First, pounding the skins is a freak that goes by the moniker Tim E. Delicious. We don't want to know how he got that name and neither do you… all the Freaks care about is how he pounds those skins, and pound them he does. With the ferocity of a drugged out Keith Moon, Tim E. barks out the next song to keep the band moving forward, and really to get the show over with so he can make friends with the bartender. Such a forward thinker Tim is, and for a drummer that's a rarity! Next we got "Krispy" Chris Pickles on lead guitar..his leads have some crunch, chomping on your eardrums for fun. Next we got the super cute Sherrilynn Nelson, the girl with class and a little sass on rhythm guitar? She looks innocent and sweet but as we know in life looks are deceiving!  
Lastly we got Greg Lowery on bass, creating his first new band in over 10 years. His resume is like the 1927 Yankees, with classic Garage punk mainstays such as Supercharger, The Rip Offs, Infections, and Zodiac Killers. He also came up with some classic punk rock quotes that should be on T-Shirts at Hot Topics across America, like, "MUSICIANS SUCK", and, "TALENT = BORING." So you pretty much know what you are going to get with the Control Freaks, more future classics, yeah we know, The Control Freaks are humble too. Who wants humble when The Freaks are out to save the world from boring rock and roll…..So remember if you hate music you will love THE CONTROL FREAKS!
slovenly.bandcamp.com/album/control-freaks-mindless-entertainment-lp