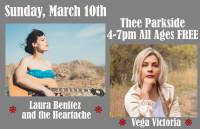 Thee Parkside Presents:
Laura Benitez and the Heartache, Vega Victoria
Original Famous Twang Sundays
Time: 4:00pm Day: Sunday Ages: All Ages / Bar with ID Price: FREE
Original Famous Twang Sundays are FREE, All Ages and there is always a surprise special from the kitchen!
Laura Benitez & The Heartache the three chord tools of country music to tell the simple, unvarnished truth about love, too much whiskey, and the call of the road. Their songs range from honky-tonk shuffles to fiery rock 'n' roll numbers to sweet old time waltzes, and cover everything from unwed motherhood ("Me or the Baby") to mean drunks ("Don't Wake the Devil"), with a whole lot of heartbreak in between. Their twangy honesty shines through in straightforward arrangements, crystalline harmonies, and spare instrumentation. Beware their catchy hooks and sweet melodies - these stray puppy tunes will follow you home and become your most steadfast companions.
laurabenitezandtheheartache.com
Vega Victoria
After an unexpected life change, Vega Victoria picked up her guitar, got in her car, and drove away, never knowing where she was going, covering ten thousand miles within the state of California in six months. The songs resulting from heartache, traveling, and regeneration have a strong groove, intense emotion, and are tinged with longing and a fascination with the open road.
Vega Victoria's debut EP The Long Embrace was produced, recorded, and mixed by Ben Tanner, member of the Grammy-award winning band Alabama Shakes. Recorded at Sun Drop Sound in Florence, Alabama, The Long Embrace pulsates with that legendary Muscle Shoals sound and features musicians Caleb Elliot on guitar and cello, Jeremy Gibson on drums and percussion, Adam Morrow (Belle Adair) on bass and pedal steel, and multi-instrumentalist Ben Tanner. These are songs about love, loss, and being lost. It's music for long, blue, empty highways late at night and for dancing with a stranger.
Originally from Stockholm, Sweden, Vega Victoria divides her time between the San Francisco Bay Area and the Mojave desert.
The music video for Amber Eyes was shot in Joshua Tree and Malibu, California by Swedish creative team Josefin Hinders and Nemo Stocklassa Hinders.