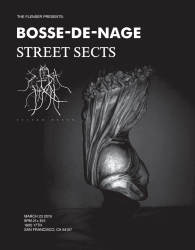 The Flenser Presents:
Bosse-de-Nage, Street Sects, Sutekh Hexen
Time: 9:00pm Day: Saturday Ages: 21+ Ages Price: $15
This Event Has Ended
The Flenser Presents:
Bosse-de-Nage
Bosse-de-Nage first surfaced in 2006 with a rousing demo tape that was subsequently released by Aesop Dekker's The Funeral Agency label. Four years and an informal hiatus later, The Flenser brought the band's debut album to the masses and breathed new life into the then-dwindling project. A flurry of blackgaze-influenced EPs and LPs would follow, inspiring Bosse-de-Nage to hone their surrealist approach to metal into one unmistakable, idiosyncratic footprint.
San Francisco post-black-metal band Bosse-de-Nage has announced its follow-up to 2015's whiplashing LP All Fours.  Titled Further Still, this new album marks a bold diversion from Bosse-de-Nage's typically sprawling arrangements in favor of airtight, propulsive song structures. Deliberately succinct and fuming, the grip of nine new tracks finds Bosse-de-Nage pitting their unique lyrical structures against hairpin turning melodies.
Street Sects
Street Sects formed in 2013 after vocalist Leo Ashline emerged from the fog of a thirteen year battle with addiction and began to collaborate with friend and multi-instrumentalist Shaun Ringsmuth. The duo embraced the ethos and aggression of punk rock, and the experimental attitude and disillusionment of early industrial music to create a sound unique to them alone. Street Sects has earned a reputation for their confrontational, sensory deprived fog-drenched live performances. The Kicking Mule will be released this October 26th via San Francisco-based label The Flenser.
Sutekh Hexen 
There are in the abyss architects building great temples - spaces accessible to those who have the mind and fortitude to transgress the seen and pass into the unseen. There are those who know foundations, and those who further know adornment, where the subtle and the profound gnash their teeth. Amid splinter and nail, among cavern and spire, we find the black temples of Sutekh Hexen. Here, finely woven shrouds of static hang from clattering bones. On blinding pyres, offerings convulse, open into screams. The labyrinth collapses as soon as its center is found, and when you are offered this chance to catch your breath - take it. You will soon find yourself blindfolded, fingering crossroads, filthy with the marks of shadows older than the sun.