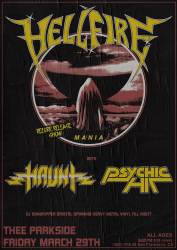 Hell Fire, Haunt, Psychic Hit
"Mania" Record Release Show!!
Time: 9:00pm Day: Friday Ages: All Ages / Bar with ID Price: $10
This Event Has Ended
Hell Fire 
Lots of thrash bands do their best to sound retro, but Hell Fire manage to sound classic. The San Francisco-based four-piece doesn't come off like they're attempting to emulate the bands of the early-to-mid-'80s so much as their chuggy, infectious sound channels the things that made that era exciting in the first place. More so, Hell Fire walk the thin line that is speed metal, adding extra momentum to classic heavy metal riffs rather than going hard on punk's aggression and misanthropy, which puts them in the same category as rare acts like Raven and Exciter.

The title track from the band's upcoming new album, Mania, is a perfect example of this approach. The song is mid-paced for thrash but fast for traditional heavy metal; it has all the chugging stomp of a band like Anthrax, but still goes hard on the gravitas and grandiosity of early Maiden and Saxon. The result is traditional heavy metal with a kick in the ass, that doesn't need to add on a lot of canned angst to get heads banging and fists pumping.
In the words of guitarist/vocalist Jake Nunn, "Thematically, everything on the album comes from personal experiences…From the highs of partying together out here in Oakland, or the nostalgia of being a kid learning Zeppelin on a beat up guitar, to the extreme lows of isolation, personal trauma, and mental illness. Sonically we want our records to sound like you're standing in front of the stage at a show. The power of Marshall stacks in front of your face, drums at your ear level, thunder of the bass and feeling the presence of the room." 

- Kerrang! Magazine on Hell Fire's upcoming album
Haunt
From the creator of Beastmaker comes the thunder and lightning to haunt the nation.
hauntthenation.bandcamp.com/album/if-icarus-could-fly
Psychic Hit 
Oakland, CA based hard rockin proto-metal sweetheart band, Psychic Hit, was formed in 2017 by guitarist Andrea Genevieve (Queen Crescent, Purple Rhinestone Eagle) and vocalist/violinist Ariana Jade (Hedersleben, Nik Turner's Hawkwind). Having met through the thriving Bay Area rock n roll network, the tenacious pair began to dream up a project that fused their wide-ranging tastes in music. What resulted was a band that would combine the raw power of early Judas Priest and Scorpions, the melodic sensibilities of Fleetwood Mac, and the esoteric appeal of lesser known acts such as Lucifer's Friend and Flower Travellin' Band. 

In 2018, the duo was joined by bassist Melanie Burkett (Ovvl) and drummer Justin Divver (Funeral Chant). With the talented rhythm section locked in, the four musicians began to embark on a songwriting enterprise that resulted in their first, self-recorded demo in the fall of that year. After the demo was recorded, the band welcomed fifth member, Jake Palladino (Pins of Light, Hightower), to join Andrea Genevieve on guitar. 

Although Psychic Hit's sound is heavily influenced by both 70s greats and rarities, the band is anything but an anachronism. Like modern contemporaries such as Kadavar, Lucifer, and Hällas, Psychic Hit seeks to recast rock music in their own image, rather than to just simply imitate eras past. In an age where the dark forces of monotony and monocracy loom large on the horizon, Psychic Hit appeals to their listeners to embrace the regenerative, communal power of rock n roll.