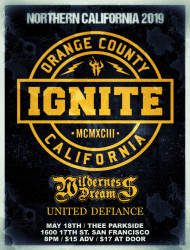 Ignite, Wilderness Dream, United Defiance
Time: 8:00pm Day: Saturday Ages: 21+ Ages Price: $15
This Event Has Ended
Ignite 
"A War Against You" is the sound of IGNITE taking a stand and delivering a record without borders or boundaries. The much-anticipated follow-up to the Southern California band's 2006 watershed moment, "Our Darkest Days", "A War Against You" affirms that IGNITE is still rooted in the energy and melodicism of hardcore's salad days, while proving themselves not merely a great punk or hardcore band, but a great band in their own right.
Formed in 1993 in the suburbs of Orange County during the height of Seattle Grunge and the Epitaph Records punk revival, IGNITE have made a career defying convention with against the grain music and thought provoking, politically charged lyricism. From prior efforts including "Call On My Brothers" (1995), "Past Our Means" (1996) and "A Place Called Home" (2000), the band's records have distinguished themselves with complex arrangements, triumphant hooks and IGNITE's calling card: frontman Zoli Teglas' unmistakable, soaring vocals.
Not only have IGNITE become an international touring force, headlining sold-out venues and festivals across the world, but recent history also found the band members individually exploring new creative avenues that have only served to galvanize IGNITE itself.  Most notably, Teglas took up vocal duties for Cali punk mainstays, Pennywise, whom he fronted on their critically well-received 2012 album "All Or Nothing". "From the outside, it may have looked like we took our time between records, but it was probably the busiest time of our lives," Brett Rasmussen (Bass) says. "Zoli played in Pennywise. Craig [Anderson Drums] was playing in Strife. Brian [Balchack - Guitar] was writing and recording with Into Another.  I was touring with Nations Afire. But through it all, IGNITE continued to tour and grow."
"Playing in Pennywise was amazing but playing in IGNITE I can focus just as much on the message as well as the music," says Teglas, recounting his time outside of the IGNITE fold.  "For 20 years, Pennywise had a message that their other singer [Jim Lindberg] wrote. I appreciate both bands and what they each have to say. I'm thankful for the time I had in Pennywise, but in IGNITE I can speak my mind about social issues. My calling has always been to play music to make a change. I still have that calling. As clichéd as it sounds, I still have that fire that burns inside of me."
Cut to early 2014. IGNITE found themselves reenergized, rededicated and back in the studio with longtime producer, Cameron Webb (Motörhead). "This is the third record we've worked on with Cameron," says Zoli. "He understands us as people and as a band better than almost anyone." The sessions became a collective soul-searching for the band; who spent the better part of a year and a half writing songs for "A War Against You". "When we started writing the album, we were kind of trying to force the record be a certain thing," states Rasmussen. "Once we finally let go and let the songs happen like they were supposed to happen, the songs took their own direction."
"IGNITE is in a different place from when they made 'Our Darkest Days'," says producer, Webb. "I think after being a band for a long time, it was healthy for them to go off and play in other bands and then bring those experiences back to make this record. They found out that Ignite is where their passion really lies." From the album's strident opener, "Begin Again", the inspirational "Where I'm From" to the driving "Nothing Can Stop Me", which was written about a friend of the band's battling cancer, "A War Against You" not only sums up the classic IGNITE sound but expands on it, proving the veteran band a musical force to be reckoned with. In fact, IGNITE have long distinguished themselves beyond the punk and hardcore sects, playing packed acoustic performances in Europe and Southern California.  Recent years have even found the band sharing European festival stages with the likes of Twisted Sister and Rise Against, amongst countless others, and winning over the most varied of crowds every time.
"We've always tried to play to the most diverse crowds we can," says Brett. "We've gone out on the road with punk and hardcore mainstays like Bad Religion, Misfits and Suicidal Tendencies but we have also ventured out with bands like Goldfinger, Sevendust, and of course, in Europe we play with tons of metal bands like Machine Head, In Flames and Motörhead."  In fact, Machine Head themselves, recently covered IGNITE's classic "Our Darkest Days/Bleeding" on a recent release to critical and fan acclaim.
In true IGNITE fashion; "A War Against You" speaks volumes from both personal and political perspectives. Teglas' lyrics remain as positive and upbeat as ever, yet tempered with age and experience. "A lot of this album is an ode to my family, an ode to the immigrant struggle," says the frontman, who has long written about his own Hungarian heritage in IGNITE's lyrics; a topic that surfaces on the track, "Alive," as well as the album's haunting closing track, "Work."
Current events including the Syrian refugee crisis in Europe as well as man's ruination of the environment (which comes to the fore on the track, "The Suffering") echoes throughout "A War Against You". IGNITE has long been a band with a message and the new album broadcasts that news from the front in no uncertain terms. For example. "Oh No Not Again," a massively anthemic track on the album, provides a stirring snapshot of life during the everyday wartime. On the meaning of the album's title, "A War Against You": "It's about humanity and the sadness that war has always brought and how hard it is to be a bystander, a displaced person, an immigrant," the frontman states.  "That is ultimately all of us. The war-mongers make a ton of money and everyone else gets to pay to the price."
"One of the first songs I ever wrote said; 'Education without action does nothing'," remarks Teglas, who is actively involved with Sea Shepherd as well as his own Pelican Rescue Team, which has rescued untold numbers of injured and endangered seabirds. For IGNITE's frontman, this has always been a "more than music" proposition. "My calling has always been to play music to make a change," says Teglas. "If I'm not going to do that then I shouldn't be onstage."
Two decades in, IGNITE are still screaming for change and here are the postcards from the war against you.
Wilderness Dream
Born from the Thrash-Metal epicenter of the San Francisco Bay Area comes WILDERNESS DREAM, a brand-new four-piece heavy metal unit of destruction combining the speed and fury of 80's thrash and 90's death metal, with the melodic leanings and no-frills DIY aesthetic of modern day punk. Though boasting this unique amalgamation of influences, it comes as no surprise that the band would dawn both the melody-infused underpinnings and unrelenting intensity of the members' current and past projects.
WILDERNESS DREAM consists of current HEARTSOUNDS frontman Ben Murray on Guitar/Vocals, who also played drums in the now defunct Bay Area Melodic Death Metal act, LIGHT THIS CITY (Prosthetic Records, 2002-2008). HEARTSOUNDS drummer Trey Derbes also provides the ripping percussive soundtrack to WILDERNESS DREAM's debut Self-Titled 12″ EP, offering a natural, live, and completely unedited approach to the drum production – While Murray and Derbes began writing what would become WILDERNESS DREAM's debut release throughout the past few years, the band didn't become an entity of it's own until Ryan Hansen entered the fold on second guitar and vocals, followed by Bret Fontaine joining in on bass guitar. Ryan Hansen and Ben Murray share a musical history as well, as Hansen played lead guitar in LIGHT THIS CITY, which contributes to the cohesive musical vision and camaraderie of what has now become WILDERNESS DREAM.
From Metalsucks.net:"Metal fans of a certain age and MetalSucks readers who were with us very early on may remember Light This City, a talented melodic death metal band from San Francisco who for a brief moment seemed poised to break through. The band broke up in 2008, but drummer and band co-founder Ben Murray continued making music with Heartsounds (together with LTC vocalist Laura Nichol) and releasing music by that band and others on his label, Creator Destructor.Murray is back with another new project, this one decidedly more metal than Heartsounds (and possibly more than Light This City, too). In Wilderness Dream Murray drops his drumsticks in favor of a guitar pick and a microphone, and he's joined by Ryan "Hollywood" Hansen (who played on LTC's Stormchaser album) on guitar and Trey Derbes from Heartsounds on drums.. It's fast and furious, it's got roots in both metal and hardcore and it's melodic without being cheesy at all."
Clocking in at just under 15 minutes, the 6 songs that comprise the band's debut release reflect a sonic-musical attack reminiscent of thrash legends in SACRIFICE and TESTAMENT, with a violent and unrestrained vocal approach, more akin to Crossover acts such as CURSED, RINGWORM, and INTEGRITY. Lyrically, Murray adopts a more stripped down and bleak approach to his death-obsessed, anxiety-ridden regurgitation of his experience, moving through an overpopulated, immoral, and devastatingly distracted human-landscape. The band explores their own interpretation of the futility and uncertainty of life, while never negating our all-encompassing, ever-growing and universal fear of the end.
With an unhinged vocal sincerity, blistering twin guitar assault, and undeniably crushing & thunderous rhythm section, WILDERNESS DREAM's sound and identity has now been established. Furthermore, the next year is already shaping up to see the band on the road in support of their debut 12″ EP throughout the rest of 2015, soon to be followed by a second EP in late 2016.
'S/T' was recorded / mixed / mastered by Scott Goodrich in July of 2015 at NuTone Studios in Pittsburgh, CA and will see an October 15th release via Murray's label, Creator-Destructor Records, in 12″ Gatefold Vinyl and Digital Formats.
United Defiance is a punk rock band with a sound that alot have forgotten, coming out swinging from the east bay of california UD has been rocking since 2004 playing some awesome shows and meeting awesome people. Never seeing need for competition between band UD welcomes shows with all genre's and supports every D.I.Y artist. United together we sing