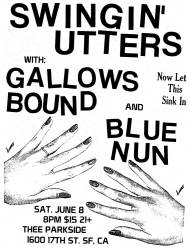 Swingin' Utters, Gallows Bound, Blue Nun
Time: 8:00pm Day: Saturday Ages: 21+ Ages Price: $15
This Event Has Ended
Swingin' Utters 
One of the more traditional-sounding of California's punk revival bands, Swingin' Utters formed in the late '80s around a first-name-only lineup of vocalist Johnny, guitarists Max and Darius, bassist Kevin, and drummer Greg. Originally based in Santa Cruz, these street punks later moved to San Francisco and recorded for several different labels, including Side One, IFA Records, and New Red Archives. The group first released 1992's Scared as Johnny Peebucks & the Swingin' Utters, but things really started to happen for them three years later with their full-length The Streets of San Francisco.
The album garnered the band much attention, including Best Debut Album at the Bay Area Music Awards, and Swingin' Utters soon found themselves on the first annual Vans Warped Tour. They later also toured with Rancid before signing to Fat Wreck Chords (run by NOFX's Fat Mike); Swingin' Utters released A Juvenile Product of the Working Class in 1996 and Five Lessons Learned two years later. The Sounds Wrong EP from 1995 was re-released by the label in 1998, with the Brazen Head EP following the next year. Around the same time, the guys also lent six tracks to a split with Youth Brigade as part of the BYO Split Series. The band's self-titled third studio effort was released in fall 2000, and national tours with the Damned and Dropkick Murphys further heightened the group's popularity among punk rockers. Their debut full-length, produced by Lars Fredericksen, was re-released in October 2001.
The next Swingin' Utters studio effort, Dead Flowers, Bottles, Bluegrass, and Bones, was issued in February 2003; a live album in the Live in a Dive series surfaced in summer 2004. By this time, the group comprised founding members Johnny Bonnel, Darius Koski, and Greg McEntee, along with bassist/vocalist Spike Slawson (Me First and the Gimme Gimmes) and guitarist Jack Dalrymple (One Man Army). The bandmembers went back to their other projects during what would turn out to be an eight-year gap between albums before getting back to business in 2011 with their much delayed seventh album, Here, Under Protest, which was followed up quickly in 2013 by the proto-punk-influenced Poorly Formed. A ninth album, Fistful of Hollow, appeared in 2014. ~ John Bush & Corey Apar
Gallows Bound 
Formed in 2012 in Winchester VA, GALLOWS BOUND consists of a group of six childhood friends who all grew up together in their local punk scene. When they weren't thrashing in their former punk and metal bands, they would play acoustic instruments at house parties, bonfires, and basements. Although deeply rooted in the traditional bluegrass of their home in Virginia, GALLOWS BOUND has a strong affection for their upbringing in punk rock and stitches their influences together in a blazing fury of Appalachian Punk Bluegrass. The band thumbs their nose at tradition in every sense which allows them to weave through many different scenes. Pushing the boundaries in all genres, their diverse range has landed GALLOWS BOUND on varying stages from iconic country landmark Gruene Hall in Texas to NYC's legendary punk house C-Squat. They have been touring the U.S. feverishly, playing over 300 shows in two years and hitting every city possible from coast to coast. In between tours, GALLOWS BOUND was able to hit the recording studio and releasing their newest EP "APPALACHIAN WITCH" in Spring 2017.
Blue Nun 
Songs of sorrow for the sensitive hooligan.
bluenunsf.bandcamp.com/releases