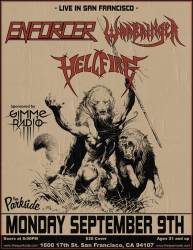 Enforcer, Warbringer, Hell Fire
Sponsored by GImme Radio!
Time: 8:00pm Day: Monday Ages: 21+ Ages Price: $20
This Event Has Ended
Enforcer  are the leaders of a new generation of metal bands that remain true to the roots of metal in terms of setting, sound and appearance. A hint towards modern bands, as they were particularly mid-00s-years popular.
The band was founded in 2004 in Arvika, a small town in Sweden far away from everything. With the release of their debut album "Into The Night" late 2008, Enforcer stated their opposition to the trend of over-produced, plastic-sounding albums with tons of tracks and triggered drums. "Into The Night" was a pure metal album in the tradition of acts such as Exciter, Agent Steel and Anvil.

Enforcer toured through Europe and the USA alongside acts like Portrait and Cauldron, and also performed at festivals such as Bang Your Head, Keep It True or the legendary Sweden Rock just to name a few. With this incredible live energy and an overwhelming feedback in mind, Enforcer wrote in 2009 the successor of "Diamonds" and went back to the studio with famous Swedish producer Rikard Lofgren at the end of the year. And the five metalheads actually managed to outdo their debut. "Diamonds" appears like a heavy metal album that sounds exactly as it should sound!
The third album of Enforcer "Death By Fire" came out in 2013 via their new label Nuclear Blast. Musically, "Death By Fire" follows the same way as its two predecessors, but is more focused and provides strong melodies, outstanding riffs and a voice of steel.
Olof says: "We decided to record the ultimate Enforcer album instead of exploring new ways. Take all the elements that distinguish us from all the other current bands and blow it on 1000 times. Watch out! DEATH BY FIRE!"

Enforcer began to work on new songs for "From Beyond" directly after their headliner tour through Europe, influenced by Eastern European metal bands of the late 80s and early 90s. Since the writing and composing process was ongoing, the new masterpiece of the quartet quickly came out.

The first official live-DVD by Enforcer "Live By Fire" is released in November 2015, including material from their gig in Tokyo during the 2013 tour and in addition a CD containing recordings from their show in Athens. Guitarist / vohttps://www.facebook.com/pg/enforcerofficialcalist Olof Wikstrand commented about the new output: 
"I am extremely happy to be able to release official video and audio footage from shows that truly capture the band in a way we like it, rather than video clips in poor quality on the net. That is the only truth and I hope you'll enjoy it! We also had the opportunity to record three new songs that will be released exclusively with this material. Stay tuned!"
facebook.com/pg/enforcerofficial
Warbringer 
Started in 2004 by High School fellow metal heads, the members of Los Angeles' own WARBRINGER are about to release their fourth studio album, programmatically entitled "IV: Empires Collapse". After three releases on Century Media and an endless succession of tours with the likes of Arch Enemy, Exodus, Suicide Silence, Megadeth, Napalm Death, Suffocation, Hatebreed, Testament, Nile, Iced Earth, Symphony X, Obituary, Overkill, Kreator, Destruction, Nevermore to name a few, WARBRINGER looks forward to unleashing a new, fourth chapter in their fast rising career, which has already doubtlessly established this hard-working five-piece as worldwide leaders of a new generation of Thrash Metal.

Following an intense string of successful tours around the globe for their acclaimed 2011 album "Worlds Torn Asunder", WARBRINGER once again locked themselves in the studio in the summer of 2013 with producer Steve Evetts (Sepultura, The Dillinger Escape Plan, Suicide Silence) and dedicated themselves to their craft, pushing their musical abilities beyond previous limits in order to assemble the new album. "While some of the material is more direct and some more technically demanding, Steve paid just as much attention to detail on simple hooks as he did on complex arrangements", said drummer Carlos Cruz about the new recording process. "IV: Empires Collapse" is a collective work and the band's most diverse so far, also marking the first recording session for recently added members Jeff Potts (Guitar) and Ben Mottsman (Bass), both formerly of Mantic Ritual, who have been touring with WARBRINGER for the longest part of the previous album campaign. 

On this newest effort, which was mixed by Brett Eliason (Pearl Jam, Heart, BoySetsFire) at Trailmix Studio and mastered by Alan Douches at West West Side Music (Cannibal Corpse, Hatebreed, Converge), WARBRINGER's trademarked furious and relentless Thrash Metal attitude and merciless sound remains unbroken and clearly distinguishable, but several new elements like a solid amount of traditional Heavy Metal feel, some grim and epic Black Metal riffing, a Punk / Hardcore edge to things as well as a some surprising songwriting turns make "IV: Empires Collapse" a vicious, highly entertaining and never one-dimensioned affair.

"Musically, all five of us brought something for the rest of the group to work off of and we were all a part of chiseling away at the ideas", explained Cruz. "Having five band members with eclectic tastes in music from Crust Punk to Progressive music and everything in between brought about new musical directions for the material." Guitarist and main songwriter John Laux added: "This was an exciting project, I am proud of the contributions from everyone involved. Ben Mottsman and Jeff Potts are highly skilled musicians. It's no secret, in WARBRINGER we are no strangers to fresh blood. I couldn't have found myself in stronger creative company. Steve and Brett did a killer job capturing all of our individual voices and channeling them down into a compelling record." 

Vocalist John Kevill commented the material on "IV: Empires Collapse" as follows: "The songs themselves are what stands out the most to me. We have the rollercoaster prog-thrash opener "Horizon", the industrial/dystopian "The Turning Of The Gears", the punky "One Dimension", the ripping thrasher "Hunter-Seeker" and the just fucking rockin' "Iron City", among all the rest! I think the closer, "Towers Of The Serpent", is probably my favorite song WARBRINGER has written to date, with a truly epic ending." And the band closes off by adding: "We can confidently say each song has an identity of its own and will make for an exceptional album with no filler material.I hope everyone enjoys listening to the record as much as we enjoyed making it. And we'll see you out somewhere beyond the highway!"

In terms of upcoming touring, WARBRINGER already have extensive runs lined up to kickstart the support work for the release of "IV: Empires Collapse". In North America, WARBRINGER will support Thrash legends Kreator and Overkill throughout October and November 2013. In Europe on the other hand, WARBRINGER will be heading out as main support for Metal veterans ICED EARTH between January and February 2014. Don't miss out on catching WARBRINGER on the road somewhere nearby you, showcasing the fury of their newest effort "IV: Empires Collapse"…
Hell Fire 
Lots of thrash bands do their best to sound retro, but Hell Fire manage to sound classic. The San Francisco-based four-piece doesn't come off like they're attempting to emulate the bands of the early-to-mid-'80s so much as their chuggy, infectious sound channels the things that made that era exciting in the first place. More so, Hell Fire walk the thin line that is speed metal, adding extra momentum to classic heavy metal riffs rather than going hard on punk's aggression and misanthropy, which puts them in the same category as rare acts like Raven and Exciter.
The title track from the band's upcoming new album, Mania, is a perfect example of this approach. The song is mid-paced for thrash but fast for traditional heavy metal; it has all the chugging stomp of a band like Anthrax, but still goes hard on the gravitas and grandiosity of early Maiden and Saxon. The result is traditional heavy metal with a kick in the ass, that doesn't need to add on a lot of canned angst to get heads banging and fists pumping.
In the words of guitarist/vocalist Jake Nunn, "Thematically, everything on the album comes from personal experiences…From the highs of partying together out here in Oakland, or the nostalgia of being a kid learning Zeppelin on a beat up guitar, to the extreme lows of isolation, personal trauma, and mental illness. Sonically we want our records to sound like you're standing in front of the stage at a show. The power of Marshall stacks in front of your face, drums at your ear level, thunder of the bass and feeling the presence of the room." - Kerrang! 
Sponsored by Gimme Radio!