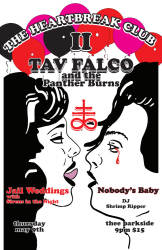 Tav Falco & The Panther Burns, Jail Weddings w/ Sirens in the Night, Nobody's Baby
Heartbreak Club #2
DJ Shrimp Ripper
Time: 9:00pm Day: Thursday Ages: 21+ Ages Price: $15
This Event Has Ended
Heartbreak Club #2
Tav Falco & The Panther Burns
Like many of the musicians, scholars, carnies and flaneurs that inspired him, Tav Falco is a Southern provocateur grifting his audience with the ol' song and dance act before shuffling out the back door with a wink and a nod. His historico-musico revue, The Unapproachable Panther Burns, originated in 1979 at the nadir of Memphis' postmodern, post-Beale, post-Sun, post-Stax era, when the Mississippi River town had seemingly disappeared from the cultural map and shriveled into an obsolescent landmark. Only groups like the Dixie Flyers, Mud Boy and the Neutrons, Big Star and Panther Burns were intent to keep the fires burning with or without commercial success, and their contribution to experimental pop music, dirty rock 'n roll and the blues revival have been incalculable.
Falco spent his formative years in the country near Whelen Springs, Arkansas, before landing in Memphis in the late 1960s. Co-founding with decadent poet Randall Lyon, the art action group TeleVista in which he worked alongside renowned photographer William Eggleston, Falco spent the next decade filming and photographing the city's legendary cadre of country blues and rockabilly musicians, artists, and politicians, expanding his lens to the outer realms of the Mississippi hill country and the Delta. In his travels he documented Sam Phillips, R.L. Burnside, Phineas Newborn, Jr., James Carr, Cordell Jackson and Jessie Mae Hemphill to name but a few. Throughout his career in photography, video, film and music, Falco has merged the grainy portraiture of a gonzo documentarian with the spellbinding mythos of a backwoods raconteur. None is more illustrative of this raison d'etre than the band he founded with fellow musician and Memphian enfant terrible Alex Chilton – The Unapproachable Panther Burns. A reference to an ol' Mississippi tall tale, Panther Burn was a large 19th century plantation outside of Greenville where legend had it a cunning panther stalked and terrorized the local population until it was corralled into a cane break and set aflame. According to witnesses, the screams coming from the panther were an unholy amalgam of animal lust and divine transubstantiation, which continue to curse the plantation.
Playing in the Memphis cotton lofts - wood-lined structures Falco likened to a guitar sounding box - Panther Burns developed their own tone science and gut-bucket approach to musical forms. The unbridled Panther Burns shows, which often featured guests like Charlie Feathers and Jim Dickinson, became monumental, renegade events. Ever-committed to preserving indigenous music and furthering new and daring expression, in 1985 Falco and the Panther Burns founded Counter Fest, an annual festival showcasing the best and the worst of the Memphis arts underground. The band quickly became a favorite in New York City, as well, where No Wave was emerging at the time. Rough Trade Records enthused over the band and released Panther Burns' debut album Behind The Magnolia Curtain in 1981.
After twelve LP and EP releases and countless globetrotting tours, Falco expatriated to Europe, where he found his most embracing audiences along the Seine and Danube rivers. The lure of the Mississippi was not far from his mind when he finally chose the river towns of Paris and Vienna as outposts of mother Memphis. The dramatic flair of his music has always colluded with cinema, and Falco was destined to step foot in its dream-factory. In addition to his own expressionist-inspired films "Shadetree Mechanic" (1986), "Memphis Beat" (1989), "Born Too Late" (1993), "Masque of Hotel Orient" (with Kenneth Anger, 1996). Falco appeared in the unredeemed Jerry Lee Lewis biopic Great Balls Of Fire (1989) and portrayed the leader of a motorcycle gang in the award-winning rock'n'roll road movie Highway 61 (1993), riding his own vintage Norton motorbike. Among numerous other movies, he appeared in By the Ways, a documentary film about color photographer William Eggleston, and enjoyed a retrospective of his own short films in April 2006, at the Cinémathèque Française. In 2014 Lamplighter Films/Frenzi Films co-released first feature film directorial effort of Falco entitled, Urania Descending, which has premiered in London and Vienna.
Falco's interest in Latin sounds has evolved into an ardor for Argentine tango. Becoming a tango dancer himself, Falco is regularly gliding in baroque ballrooms of Vienna's many palaces and in the milongas of Paris and Buenos Aires. The profound influence of tango is evident in Falco's albums, as woven through Shadow Dancer's songs of unrequited love, betrayal, and lost causes. As The New York Times has declared of unorthodox preservationist Falco, "(He is) a singer, guitarist and researcher of musical arcane who hasn't let his increasingly technical expertise and idiomatic mastery compromise the clarity of his vision."
Falco continues to perform with Panther Burns, appearing at events like the It Came From Memphis series at The Barbican Centre in London in 2005. Appearances include 2006's ArthurNIGHTS Festival at the historic Palace Theatre in Los Angeles, 2007's command performance at Fondation Cartier in Paris, 2008's headlining at the Strade Blu Festival in Tredozio, Italy, 2009's Alternatilla Festival in Mallorca, Spain, the Barreiro Rocks Festival in Lisbon 2010, a London showcase at the 100 CLUB in 2011, the and multimedia event at the Ogden Museum of Southern Art and Music in New Orleans in 2012, along with the Byron Bay International Blues Festival in Australia in 2013. In 2015 Falco was invited to appear at Silencio - the private club of David Lynch in Paris. 
The previous album release, CONJURATIONS: Séance for Deranged Lovers was recorded in a secret studio in Saint-Germain-des-Prés on Paris' left bank. The record is composed of all original songs, and consummates Falco's vision with a particularly poetic, yet turbulent thrust. The lineup includes Giovanna Pizzorno, an original member of the Memphis all-girl band the Hellcats, and drummer with Panther Burns since the mid- Eighties, lead guitarists Gregoire Cat and bassist Laurent Lanouziere, A new FRENZI re-Issue series of the Panther Burns catalog is now underway with LTM records in the UK in 2015 beginning with the introductory release, HIP FLASK. 
Recorded in Rome, the new studio album, COMMAND PERFORMANCE, was released in March 2015 by UK label TSB Records. The lineup includes guitarist Mario Monterosso, Giovanna Pizzorno, and keyboardist Raffaele Santoro. Falco's exceptional voice, described by one journalist, as sounding like Marlene Dietrich under torture, evokes the phenomenal fires of the Panther Burns. This new album is a real statement of intent from a man and his band who hit new peaks of performance - showcasing not only stunningly varied selections of the obscure and the well known from the blues palette, but an amazingly broad selection of new original material as well.
Equal parts primal, early rock'n'roll, deviant hill country blues & avant-garde art - TAV FALCO's PANTHER BURNS are ramshackle, raw, unholy & utterly amazing. Panther Burns is not just Music... it is a state of mind. Tav Falco is one of the truly original and romantic forces in American music - the voice that America lost and found. He is tender and virile, flamboyant, witty and dangerous. Falco brings daggers back to the stage. HE is the one who always holds out a hand to the enemy.
Jail Weddings w/ Sirens in the Night
Jail Weddings' epic second full length is quite aptly titled. Meltdown: the flailing emotional implosion often borne of a triumvirate of frayed nerves, volatile substances and excessive external pressure is clearly evidenced in the words and music herein. But, there's also a newfound sense of musical genres and histories mixing together like molten wax where the band's signature Shangri-La's, Bad Seeds, noir-hued pop merges with hazy psychedelia, bombastic rock and even essences of bizarre Eastern European folk. It's the sound of a band that's always been at the brink of self-destruction actually growing and thriving on its own chaotic impulses.
It's now six years into something that wasn't expected to last six months – this "thing" called Jail Weddings. While the songs have always been timeless and top notch, they're also a band whose initial popularity often hinged on the fact that it could all fall apart at any given moment – with frequent dagger eyes or fistfights both onstage and off – where it was always clear to the audience that the high-drama of the songs often spilled into the band members' own precarious lives. They are a group that audiences could live through vicariously, a band capable of not just inspiring listeners' ugly catharsis, but often enacting its own in public. One of few that could claim they are not just a band, but a lifestyle all their own.
It was late 2012 when we had last checked in with frontman Gabriel Hart, who explained that last year's Four Future Standards EP (described by VICE Magazine as "music to have knife sex to") was also the gradual bridge to their more grandiose work-in-progress second full-length. Hart ensured that anyone who thought they were any sort of "party band" would be gravely mistaken upon hearing what they had been stirring up in their charred cauldron. Little did he know it would take well over 365 days to finish what he had started, where the stakes were raised, bank accounts drained, sanity/sobriety and sleep compromised, and their longtime rhythm section and one of their back-up singers lost…where towards the end it would cause him and his eight-headed collective to treat it with all the intensity a band would as if it was the last record they would ever record, even though their present locomotive momentum will prove at least that part otherwise.
And what better process to make a record, Meltdown – A Declaration of Unpopular Emotion which Hart describes as a somewhat conceptual "dissection of the personal Apocalypse." A record whose liner notes cite such patron saints as disparate as philosopher Carl Jung and enfant terrible Francis Farmer as touchstones? But, this is only for the uninitiated to understand – as within the first listen of Meltdown one will soon realize this record is indeed a vast, universal tantrum, where the best path of protest is often to create one's own atmosphere, to secede from pain through a self-imposed baptism of fire. And, the end inspiration proves once again one must look no further than Jail Weddings' own twisted, snake-eating-its-tail world they've created.
Meltdown begins somewhat similarly to their 2010 debut Love Is Lawless – Hart's lone baritone accompanied by minimal instrumentation slowly building the anticipation that something is about to leave a crater in its wake. But, instead of the Broadway schmaltz approach of their previous effort's intro, the song explodes as if they are going into battle, marching drums and ominous war siren back-ups announce that they are going into this nervous breakdown unabashed. And before we get a chance to catch our breath, they blow right into the electric 12-string guitar of "May Today Be Merciful" where Hart sets the real tone of the record as if Echo and The Bunnymen were lost in some bad trip section of L.A.'s Paisley Underground scene. Elsewhere, "Why Is it so Hard To Be Good?" lumbers to a start with thunderous early-Swans sounding drums leading a dark lament of our collective penchant to do wrong. Throughout the album there's chiming power-pop ("Dead Celebrity Party"), somber balladry ("Summer Fades", "Obsession"), dramatic pageantry that would make Born To Run era Springsteen blush ("Angel of Sleep") and so many other twists and turns that the album's dramatic title will make perfect sense.
Sessions for Meltdown commenced once again at their home base of The Station House in Echo Park with engineer and co-producer Mark Rains (Black Rebel Motorcycle Club, Waylon Jennings, etc). The line-up on Meltdown proves to be their most enduring, sturdiest and studied yet – familiar faces from their last effort being Hart's right hand man Christopher Rager on guitar (and co-producing), last O.G. member Hannah Blumenfeld on strings (the group has since turned her into an octopus string quartet in the studio – recently earning her full-string duties on the new Ghostface Killer record), secret weapon Marty Sataman on piano/synths, vocalists Jada Wagensomer, Marianne Stewart and Kristina B holding steady as three-part harmony dream team, with Wagensomer occasionally moving front and center as Hart's female counterpart, where they duet on "Why Is It So Hard To Be Good?" and "…Keeping The Faith," also seeing her solo spotlight on "A Promise" and "…Never Going To Find Me." The new fierce rhythm section that came swinging to rescue the group from mid-recording uncertainty includes Morgan Hart Delaney on bass (and blood, as Hart's own cousin) and Hart's long co-conspirator Dave Clifford (The VSS, Pleasure Forever, Red Sparowes, Hart's own Starvations/Fortune's Flesh) on drums.
Nobody's Baby 
"The squealing tires, the kick, kick kick, snare, young love, and blood curdling scream. All ingredients to an American classic, the Teenage Death Song. Nobody's Baby formed around the idea of capturing the raw honesty buried in early 60's cheese schlock. Think the Shangri-las on a Saturday speed binge and Del Shannon still drunk on a Monday morning. Buddy Holly post-plane crash. The band writes a love letter to all this. They spill their heart on the page, but the letter is written with vintage fuzz pedals, trashcan reverb, and cave dweller drums. The end result is a garage doo-wop funeral parade, and everyone's invited."