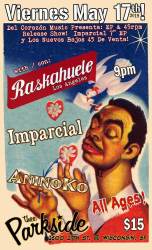 Del Corazón Music Presents:
Raskahuele, Imparcial (EP Release), Aninoko
EP Release Show for Imparcial's "Imaginando Lo Sucedido..." EP on Del Corazón Music!
Time: 9:00pm Day: Friday Ages: All Ages / Bar with ID Price: $15
This Event Has Ended
Del Corazón Music Presents:

Un evento celebrando el inicio de nuestro proyecto como Disquera, con la presentaciOn de nuestro primer lanzamiento, con la música de "Imparcial", y su trabajo debutante "Imaginando Lo Sucedido..."... Para aumentar la fiesta y promover la energía comunal, tenemos a unos compañeros de sorpresa como invitados especiales, quienes también tienen algo de tiempo sin estar por estas tierras de la Bahía, y serán anunciados el Viernes 19 de Mayo por la tarde...

Mas InformaciOn, sorpresas, y detalles por publicar... gracias!!!

A very special event in celebration of our first Release by the Artist "Imparcial" and his debut EP "Imaginando Lo Sucedido..."... More information to come, surprises, details and confirmations to boot!... Special guest headliner will be announced / updated on Friday April 19th!... muchas gracias familia, and more information to come!!!

$15 TODAS LAS EDADES!!! / ALL AGES!!!

Imparcial EP Release Show!!!

Con / with:
- Raskahuele (LA) https://www.facebook.com/Raskahueleoficial/
- Imparcial (EP Release Show!) https://www.facebook.com/imparcialmusix/
- AninoKo (Punk Rock en Tagalog) https://www.facebook.com/AninoKo-479815108815291/

********************************
Imparcial es una persona, una guitarra y un poco de letras.

Imparcial is one person, one guitar and some words. Imparcial

********************************

Así es mi querida Raza, les escribo con la mala noticia, de que los compañeros de Tijuana No!, NO van a poder ser parte de esta celebración, por motivos fuera de mi control (y mis deseos)... Yo siempre tomo este tipo de oportunidad (y confianza que me brindan) en serio, la razOn por cual, hice TODO lo posible para confirmar otro grupo de calidad, el cual se anunciará mañana por la tarde, con mis disculpas sinceras... Si hay bella gente que ya comprO boleto(s) para ver a los Tijuanenses, y no están convencidos al saber el nuevo grupo agregado, se puede sugerir un reembolso, sin problema, y sin juzgar... Gracias por el apoyo!!!

A very unfortunate message to inform you fine folks in Feisbooklandia that the headliner for this super-duper shin-dig has indeed been dropped from the lineup, for reasons beyond my control, and against my best wishes... SO... since finding this out a short time ago, I have been scrambling and calling upon friends and relations to help me fill this immense void that (I will humbly concede) has been fashioned by the absence of Tijuana No!, for which has bared fruit, and I am happy to announce that the pinche fiesta will go on!... Headliner will be announced Friday afternoon, and information will be updated... my sincerest apologies for this unfortunate development in talent, along with my complete commitment to preserve the high level of music and community, that will certainly still dominate the night... Please stay tuned, and thank you for your trust and support!... muchas gracias!!!