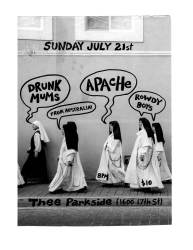 Drunk Mums (Australia), Apache, Rowdy Boys
Time: 8:00pm Day: Sunday Ages: 21+ Ages Price: $10
This Event Has Ended
Drunk Mums
Australia's finest rock n roll group DRUNK MUMS are coming to the U.S of A. The band is Influenced by an array of genres; 77 punk, pub rock, garage & proto punk to name a few. If you like driving, classic sing-along rock n roll punk songs you'll be hard pressed to dislike the mums. 
With 6 releases and a total of 50 original songs out so far since their birth back in 2011, Drunk Mums continue to takeover packed rooms across Australia for the past 8 years. The Mums believe in a hands-on approach with all aspects of their music from recording, mixing and launching each release through bass player Adam Ritchie's record label PISSFART RECORDS. 
Drunk Mums share around lead singing duties between members Adam Ritchie (Bass), Jake Doyle (Guitar), Dean Whitby (Guitar) and Jonny Badlove (Drums). Steve Kelly from MESA COSA will be filling in on drums during this tour due to Jonny's work commitments back home. 
After multiple sold out tours in Australia, UK, EUROPE and INDONESIA, Its time for DRUNK MUMS to blast through American shores for the very first time.
Apache
Everyone's favorite local purveyors of heavy pop! 
Rowdy Boys