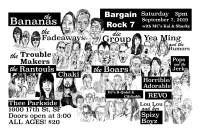 Bargain Rock 7
w/ Bananas, The Fadeaways, The Trouble Makers, The Rantouls, Chaki, Die Group, The Boars, Lou Lou & Her Spicy Boyz, Yea-Ming & The Rumorz, Pop & The Jerks, Horrible/Adorable, Revo
Time: 3:00pm Day: Saturday Ages: All Ages / Bar with ID Price: $20
This Event Has Ended
Bananas
After 25 years, the Sacramento band still takes goofing off very seriously - the Bananas' breed of punk rock is fast, distorted and barely stitched together, bringing to mind the childlike exuberance of Beat Happening. Rather than sounding aggressive in any capacity whatsoever, like so many punk-rock bands, the music is fun and joyous with from-the-gut drunken sing-alongs. The lyrics, which are depressing and catastrophic, contrast brilliantly with the upbeat melodies. (Aaron Carnes) 
recessrecords.bandcamp.com/album/the-first-10-years
The Fadeaways
are children of the distorted Tokyo garage underground and draw inspiration from all strides of primitive rockin'. Along with their own songs, their covers speak to an uncompromising will to play what they want, how they want, encapsulating the raw energy of unknown '60s rockers, '70s punkers, '80s gunkers and '90s trashers. Get Primitive! 
thefadeaways.bandcamp.com/releases
The Trouble Makers
Ripping off the Sonics, Mummies and Primates since 1993, the Trouble Makers (Tim, Stan, Rod and Brian) have steadfastly refused to have one original idea in their entire history, preferring instead to raid the rubbish heap of rock n roll history. They have released one album, several singles and have made several tours of Europe and the US. Also: zebra skin vests, don't forget them. 
facebook.com/The-Trouble-Makers-433272836747926/
The Rantouls
"Any band today who does '60s stuff - it just pales in comparison to real '60s groups," Rantouls singer-guitarist Gavin May says. "We're trying to be a teenage garage band even though we're adults." We don't know one single person who doesn't like the Rantouls, so if you haven't seen them here's your chance!
soundcloud.com/burgerrecords/the-rantouls-cuddle-up
Chaki is a funky alien wizard from Outer Space. With his unique take on electro funk, he has brought his face melting stage show to festivals like Noise Pop and The Offbeat Fest. Chaki has shared the stage with like minded weirdos Peelander Z, El Vez, Bob Log III, Metalachi, Captured By Robots and The Oingo Boingo Dance Party. Rolling Stone said he is like Prince except not sexy and much fatter. 
Die Group vows to obliterate the SoCal landscape and beyond with bad dreams of deathpunk and black leather. Released on Sex Tape Records, the debut 7" and LP titled Disease Control makes Mitch Cardwell of MRR, "wanna break dance on broken glass and drink bleach. IT IS SO GOOD." (SXSW).
diegroup.bandcamp.com/releases
The Boars is a SF Garage/Frat n' Psych/Pop band formed in 1965…well, they might as well be cuz if you listen to them with your eyes closed you'd think you're in Tacoma, Washington or Odessa, Texas circa 1965. Oh, and be sure to feed the Boars some beer. They get real thirsty. 
Lou Lou & Her Spicy Boys 

Hip Shakin' Foot Stompin' Thigh Slappin' Soul that'll make you Shake, Rattle, and Roll! 
facebook.com/loulouandherspizyboyz
Yea-Ming & The Rumorz
The songs on Yea-Ming and the Rumours' debut album, "I Will Make You Mine," are some of the sweetest, sunniest '60s-evoking folk-pop you'll hear — except for the dark, even menacing bits that unexpectedly peek out of shadows that you might not even have noticed. "Gunshots ring out on the street," the Bay Area native Yea-Ming Chen sings in the middle of the otherwise bubbly opener, "Where Did Our Moment Go," a little pathetic fallacy of the lost moment. - Steve Hochman / KQED 
Pops & The Jerks
"Pops and The Jerks…emphasis on the Jerk part...playing the classic 70's punk rock in the great perfect sloppy style it demands. I wanted to play with them ever since they FORCED me to sing a song I did in The Infections years ago, COM'ON by the PACK" (Greg Lowery)
Horrible/Adorable is a "Creamsoda Dreamsicle Poprockz" duo from Oakland, CA who likes to rock out and sparkle. Here's their story...Once upon a time, Candice and Kiki met at a bbq in West Oakland. With an instant spark (well, a sparkle, really!), they became fast friends. They talked all evening about how they would form a band called 'Horrible/Adorable.' Candice, a new drummer, was a big ball of energy. Kiki, shy as a mouse, had never sang in front of anyone. Horrible/Adorable had their first practice four years ago and have been best band mates/friends ever since. Their songs range in subject matter from friendship and underage love to vacuum cleaners and sparkly pink bowling balls. Their EPs, 'Amy Understands' and 'Looking' Healthy!', topped the local charts as they continue to play shows all over Oakland and San Francisco. Their newest release, 'Caprice!' is now available on Hover Craft records! 
Revo
This year we're proud to present Revo, a student band from Oakland's 3 O'Clock Rock!