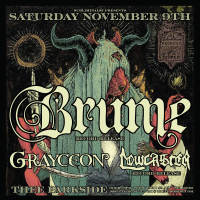 Subliminal SF & Good Girl Co-Presents
BRUME (Record Release), Grayceon, Lowcaster
Time: 9:00pm Day: Saturday Doors: 8:00pm Ages: 21+ Ages Price: $8.00
This Event Has Ended
BRUME
In a world where everything travelled at the speed of sludge, Brume were united by a love of the riff in San Francisco at the beginning of 2014. Jamie McCathie (guitar) moved to California, leaving his UK sludge band Gurt in London but knew as soon as he met Susie McMullan (vox/bass) they'd make music. Instantly bonding over bands like Sleep, Windhand and The Melvins the two got to writing. Arising from the fog came Jordan Perkins-Lewis (Drums), who's unique 'Mr Bungle'esque inspiration rounded out the songs, taking each idea and creating something beyond heavy. The trio headed into Sharkbite studios in Oakland (Sleep, High on Fire, Acid King) to create their first record at the end of 2014, combing fuzz soaked stoner metal, haunting ritualistic vocals and crushing slow and low doom.

GRAYCEON
The San Francisco/Bay Area has long been regarded as a key hub for cultural diversity and liberated artistic creativity, so it comes as no surprise to observe an ambitious group such as Grayceon rise from the crux of this nerve center and truly flourish. With each subsequent release, the band continues to progress and strengthen their acclaim through a gritty determination to regularly challenge extreme music's confines.

Over the course of 12 years, four proper full-lengths and one EP, this trio comprised of little more than one guitar, one cello, and one set of drums has managed to tackle the full spectrum of heavy music's extensive clutch of emotions. Pummeling sludgy metal quickly carves into fiery post-punk that's knotted within epic experimental rock, and it's all blanketed with the additional allure of ample use of mellow stretches to fully round out the pattern. Words such as "enterprising," "unconventional" and "dynamic" have all been utilized in an attempt to encapsulate the band's overall design, but the absolute consensus remains: Grayceon thrives as a splendid anomaly amongst an ever-increasing sea of peers.

Grayceon continues to hammer forward and deliver in spades for those who thoroughly enjoy being challenged by a truly progressive band. Hop in, listen up, and enjoy the ride.

LOWCASTER
"Behold, as LOWCASTER takes you on an intrepid ride through the heavy metal ages. Wild and flamboyant, 'Flames Arise' embraces an infinite love for old school heavy and crying guitars. Go deeper into the album, and you'll get instantly hooked on its perfect blend of spine-shivering ballads and epic anthems. In between hulkean blows, ghostly guest vocals from BRUME's Susie McMullan brilliantly add to the overall feeling of infinity and greatness of 'Flames Arise'. The Bay Area foursome proves to be worthy of the greatest metal acts, crafting a picturesque brand of heavy that is thrilling, legendary and fiercely rock'n'roll all at once!"
- Ever Metal

Lowcaster is a San Francisco metal band combining classic riffs with progressive landscapes. Their first release, 2017's The Vapor Sea, established a solid foundation of dueling guitar wizardry, thrashy breaks, and atmospheric heaviness. Now with their sophomore release "Flames Arise", Lowcaster continues to branch out incorporating long form songwriting with concepts of metaphysics, identity, and folklore.