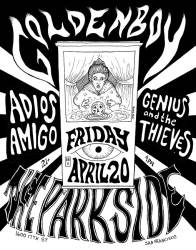 GOLDENBOY (Feat. Members of Elliot Smith, Eels, The Rentals), ADIOS AMIGO, GENIUS AND THE THIEVES
Time: 9:00pm Day: Friday Ages: 21+ Ages Price: $8
This Event Has Ended
Goldenboy (Feat. Members of Elliot Smith, Eels, The Rentals) - Since the release of his band's 2003 debut Blue Swan Orchestra – a KCRW favorite that featured guest vocals by Elliott Smith on "Summertime" – Shon Sullivan's Goldenboy has trekked near forever on the road, supporting the likes of Bright Eyes, Neil Finn, Stephen Malkmus and Grandaddy. For most of these shows, he was doing double-duty as well, playing multiple instruments with Finn, the Rentals, Eels and others on tours across the globe.
When Elliott Smith caught wind of Sullivan's prowess on guitar and keyboards in the LA-area band Spain, he quickly drafted him into his band; it was during his time alongside Smith that Sullivan began developing his own material, which would eventually become Goldenboy. Blue Swan Orchestra was recorded with drummer Bryan Bos and bears distant traces of Smith's influence. Its follow-up, Underneath the Radio (2006), found Sullivan and Bos joined by a cast of heavies including Neil Finn, Lisa Germano, Scott McPherson, Matt Sharp and Phil Jordan. Goldenboy as it stands today is comprised of Shon Sullivan (Vocals / Guitar) , Nicole Verhamme (Guitar), Keith Brown (Keyboards), Katy Stone (Bass) and Jon Crawford (Drums)
Sleepwalker, due out this February, was recorded at Interstellar and Leaning Pine studios by Sullivan and Jon Crawford, and mastered and sequenced by veteran engineer Don Tyler, who mastered all of Elliott Smith's albums. Sullivan sums up Sleepwalker with the thought that "It all has to do with not looking at the clock, taking our time, and trying to really develop the arrangements and the feel of the sound. The ambience thing was important."
Adios Amigo is the solo project of Johnny Major (drummer for il gato). Current members include Johnny Major (guitar, vocals), Jason Forrest (guitar, vocals), Shawn McNamara (bass, vocals), and Steve Wills (drums, vocals). The genre can be described as indie-rock-pop. Influences and parallels include Broken Social Scene, Elliott Smith, Phoenix, The Shins, and The Strokes. All members of Adios Amigo reside in San Francisco, CA.
Genius and the Thieves - Raised on a steady diet of classic rock and punk, Genius and the Thieves are five guys who spend their days writing celebratory, rowdy, rock and roll with a distinct blues edge and a dash of indie sensibility thrown in for good measure.