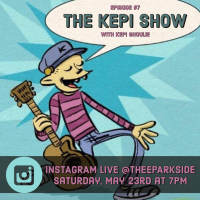 good girl presents
Kepi Ghoulie
THEE LOCKDOWN: An Instagram LIVE fundraiser supporting the staff, bands and artists of Thee Parkside!
Time: 7:00pm Day: Saturday Price: FREE
This Event Has Ended
Donate to keep our independent music venue kickin! https://fundly.com/thee-lockdown

KEPI GHOULIE "...With a cartoony voice, a love of the Ramones, and inclusive spirit, Kepi (aka Kepi Ghoulie aka Jeff Alexander) injects his silly, funny, and friendly music with warm feelings and lots of hooks. Starting out as the leader of the pop-punk monster aficionados the Groovie Ghoulies, Kepi also explored country music with the Haints, set out on his own to make albums that were inspired by folk (American Gothic), aimed at kids (Kepi for Kids), and just plain fun rock & roll before digging back into the Ghoulies' archives to curate a series of reissues in the mid-2010s. Whatever the setting or sound, Kepi can be counted on for his positive outlook, fun songs and delightfully innocent approach to life and music."